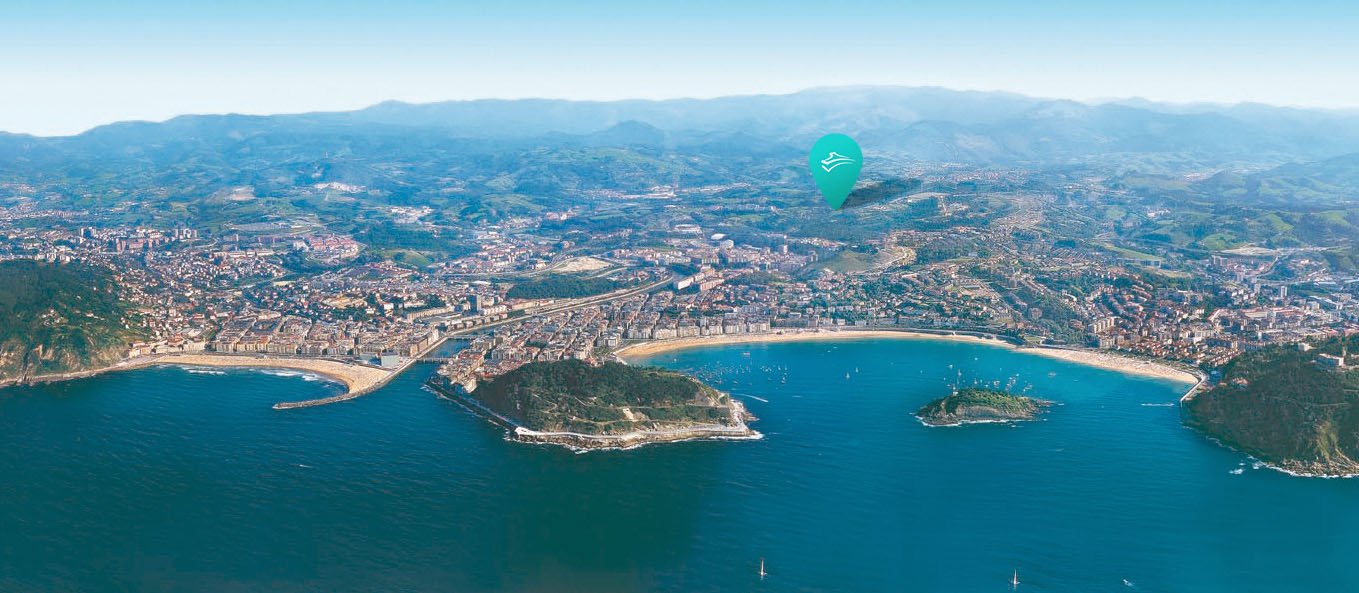 International patient care
Policlínica Gipuzkoa, well located in the Technology Park of the city of San Sebastián, a popular tourist destination for visitors from Southern France, is a leading private hospital in Spain for its excellence, comfort and professional prestige.
A pioneer in incorporating the latest technologies (the first ultrasound scanner in Spain was in this hospital), it has amongst the most modern diagnostic and surgical facilities around and the main healthcare quality accreditations awarded in Europe, one of the world's most rigorous quality accreditation systems.
Policlínica Gipuzkoa offers patients and their families the most comfortable, pleasant and fastest recovery during hospitalisation.
With patients' well-being in mind, we organise both your and your companions' journey to San Sebastián and Policlínica Gipuzkoa, from anywhere in the world, offering you the type of accommodation you want in our city, as well as any transfers you may need.
If the patient requires so, we can also offer them language interpretation services.
Quality Certificates
Policlínica Gipuzkoa has achieved ISO 9001-2008 Quality certificates for its services in:
Radiology and Imaging
24-hour emergency
Cardiac Surgery
Haemodynamics
Operating Rooms
Sterilisation
Clinical Laboratory
ICU Intensive Care Unit
Admission
Inpatient Units
Policlínica Gipuzkoa also has been awarded an accreditation from the European Cardiovascular and Thoracic Surgery Institute of Accreditation for cardiac surgery on adults.
Quality service 24/365
Own Contact Center 24h / 365 days.
Telemedicine and Home Medical Assistance in less than 1 hour. Hospital transfer by ambulance if necessary. Bureaucratic management with all international insurance companies. No cost for the client or the patient.
Premium Service for the International Patient:
Preferential circuit of admission
International Medical Team
Personal assistants and translators
Most demanded services by International Patients
General check-ups
As part of its comprehensive range of services, Policlínica Gipuzkoa has a customised check-up programme, which includes all the necessary medical tests for assessing the patient's health. It also includes specific medical examinations in seven areas: breasts, menopause, prostate, osteoporosis, heart, cardiovascular system and sports.
The star service in this section is our EXPRESS CHECK-UP, a full assessment of the patient's health through a series of co-ordinated tests carried out the same day to obtain the result of our patient's general health in just a few hours.
Comprehensive Cardiology: check-ups – haemodynamics – electrophysiology – cardiac surgery – cardiac rehabilitation
Our Cardiology Area comprises a team of professionals from different specialities who work closely together. Policlínica Gipuzkoa has a pioneering nationwide Cardiology Area that provides different services such as clinical cardiology, cardiac surgery, haemodynamics, prevention, cardiovascular imaging and arrhythmia.
We use the most advanced techniques and medical equipment in each of the Cardiology Area services.
In cardiac surgery, with more than 400 instances of extracorporeal circulation surgery a year, the use of endoscopic radial artery removal for carrying out bypass surgery stands out. The service includes cardiac rehabilitation for better and faster patient recovery.
In haemodynamics we perform more than 2,000 angioplasties and catheterisation procedures a year, with radial artery access in 85% patients. We have a primary angioplasty programme for the whole of Gipuzkoa and perform non-invasive treatment of atrial septal defect.
For prevention, we offer a cardiac check-up service, with a stress test unit and the most sophisticated hospital equipment in medical diagnostic imaging.
We use electrophysiology equipment, applying the most advanced diagnostic and radio-frequency ablation methods.
The Imaging Unit, made up of cardiologists and radiologists from the hospital for cardiovascular diagnosis, performs the latest generation MRI technology and 64-slice CT scans.
Comprehensive Urology: Da Vinci robotic surgery for prostate cancer treatment
Kidney disease, green light laser surgery for benign prostatic hyperplasia, prostate or bladder cancer with Da Vinci robotic surgery, urinary incontinence, kidney stones, erectile dysfunction and male infertility are some of the conditions treated by the Urology Department at our hospital.
The hospital offers the most accurate diagnostic tests and effective medical and surgical treatments, such as MRI, CT scans, transrectal ultrasound and biopsy of the prostate and pelvic floor rehabilitation, amongst others. Policlínica Gipuzkoa is an authorised centre for removing kidneys for transplantation.
Fertilisation treatments
The Assisted Reproduction Unit provides infertility treatments using fertilisation techniques involving manipulation of egg and sperm. The Unit uses the latest techniques, which include:
Artificial insemination (AI)
In vitro fertilisation (IVF)
Intracytoplasmic sperm injection (ICSI)
Orthopaedics: hip, shoulder, knee, hand and foot surgery.
The Orthopaedics Unit at Policlínica Gipuzkoa has extensive experience in the treatment of joint injuries through knee, shoulder or ankle arthroscopy, as well as in prostheses and patient care for victims of traffic or occupational accidents.
First, our doctors perform a clinical examination, followed by MRI or ultrasound scanning using our cutting-edge equipment, if necessary. This leads to an accurate diagnosis in the acute phase of injury. Then the doctors decide the type of treatment – rehabilitation or surgery – to give for the patient's recovery, in which laser techniques play a prominent role.
About 95% of orthopaedic injuries are resolved effectively through arthroscopic techniques in day surgery, leaving minimal scars.
Furthermore, Policlínica Gipuzkoa is a pioneer in applying growth factors in lesions and surgeries that require this type of treatment.
Recently, it has created the Minimally Invasive Foot Surgery Unit, which corrects, on an outpatient basis and in just a few minutes, painful and unsightly deformities of the foot – bunions, hammer toes, ball of foot pain or heel pain – under local anaesthesia leaving only tiny scars. The lesion is corrected painlessly for the patient, who can soon return to their normal life.
Ophthalmology: excimer laser surgery
The Policlínica Gipuzkoa's Ophthalmology Service includes the latest laser surgery technology to correct near-sightedness, far-sightedness and astigmatism, and cataract surgery, eyelid surgery and age-related long-sightedness (presbyopia). Eye operations are also performed and eye diseases treated such as long-sightedness, eyestrain, retina problems, eye irritation, conjunctivitis, etc.
Laser eye surgery is performed by specialists with over 20 years experience, offering the best eye care.
Plastic surgery
The main purpose of cosmetic surgery is for people to regain self-esteem and feel comfortable in their own body. In Policlínica Gipuzkoa, we improve the patient's image and help them look more attractive. To do this, we have the latest technology and equipment at our disposal.
Carbon dioxide laser resurfacing in eyelids and/or wrinkles, short scar breast enlargement or reduction, and ultrasound liposuction, which can extract a greater amount of fat in a less aggressive way for tissues, with excellent results in very difficult areas for suctioning fat under conventional methods such as hips or breasts, are some of the services offered by our Department of Plastic, Aesthetic and Reconstructive Surgery.
Before surgery, the patient may view the approximate final result of the operation, through the Mirror Facial and Body Digital Analyser.
---